It's no secret that one of the hottest trends in beauty is having voluptuous hips and a lifted booty. This might be why a lot of ladies are noticing they might not have the perfect hourglass shape that they see (some) celebs have. More and more women have been questioning why they have these dents or 'dips' in their hips and how they can get rid of them.
What are hip dips?
Hip dips, also commonly known as violin hips, are an indentation where your pelvis hits your thighs. Instead of the hourglass shape you want, instead you see more of a violin shape, hence the term "violin hips." Although hip dips have always been around, more and more women are noticing them as they try to get the perfect booty and wide hips. Therefore, this has sparked the curiosity of women all over the world. They wonder what they are, what causes them, how to get rid of them, and so on.
The Science
The scientific name for hip dips is called Trochanteric Depression. The shape comes from having high hip bones. It causes a dip before reaching your thigh bone (femur). Hip dips have many different names: Violin hips, shelf hips, hip dents, high hips, etc… Both women and men have them, however it is usually most noticeable in women due to the wider hip bones that women have and the more revealing clothing they tend to wear.
So, does everyone have hip dips?
Ah, the ultimate question! It's hard to say exactly if everyone has them and you can just see them on certain people, or if only certain people have them. While researching, I've come up with different answers. However, I would say that not everyone has them. I mean, there's a term "hourglass figure" for a reason, right?
So, what's the big deal?
Many women have questioned if this makes you weirdly jointed or deformed and I can assure you, it does not! It is not harmful. It actually occurs naturally. Some body types just show it more than others.
I've even seen women ask if wearing their underwear in the same place all their lives could have caused it. This is another heck no! It is a natural part of your bone structure. There is nothing that any woman did that "caused" it.
Then you have other women all over the world that are celebrating their violin hips on Instagram with a body positivity movement.
It's not always easy to have confidence on something that you don't like about your body, however, and a lot of women still feel uncomfortable.
Can I get rid of them?
The major question women ask when talking about hip dips is how to get rid of them. Some plastic surgeons say that they can get rid of them. Transferring fat to fill in the 'dips' and help round out the shape is one procedure that is possible. However, this isn't possible for a lot of women for various reasons. One being that they don't have the fat from another part of their body that they can transfer.
Surgery aside, since it is a part of our body structure, there is no natural way to get rid of it entirely. However, there are several things you can do to reduce the appearance of them, which can essentially "get rid of them" for all intents and purposes.
There may be no actual way to get rid of hip dips, but there are things you can do that can make them less revealing. The first thing you can do to make them less noticeable is learning how to dress them so that they aren't accentuated. This includes:
Wearing looser clothing that doesn't cut in at the waist
Avoiding tight, high waisted bottoms
Trying out compression underwear that may smooth you out
Wearing more flowy tops
And, if you're willing to try them, there is even padded underwear that can help fill in the 'dips'!
Another way to lessen the noticeability of violin hips is working on losing the love handles. Love handles accentuate violin hips. Besides, who wants love handles anyway? There are a million different at-home youtube videos with exercises that can help work on love handles, but I'll share my personal favorite! This video always helps me feel the burn!
Exercises
Having shelf hips doesn't mean you can't look AMAZING in a swimsuit. But if you do feel yourself being scared to go to the beach, there are some exercises that can help.
Side leg lifts
Lie down on your right side and stretch your legs straight.
Rest your head on your right elbow while facing to your right
Keeping your right leg on the ground, lift your left leg upwards to form a 'V' shape.
Stay in that position for few seconds and bring the leg down.
Repeat the leg lifts about 10 times before switching sides.
Squats
Stand with your feet shoulder-width apart
While keeping your back straight, lower your body until your thighs are parallel to the floor
Be sure that your arms support your body weight and your knees remain in kneeling position
Slowly raise your body up to your original position
Repeat as many reps as you feel comfortable doing
Donkey kicks
Get on your hands and knees to support yourself
Keep your back straight and lift your right leg upwards behind you, while your left leg stays on the ground
Then slowly bring it back down to the original position
Repeat the donkey kicks about 10 times before switching legs
Side lunges
Stand straight with your feet together
Keep your left leg straight and extend your right leg to the side with a slight bend at the knee
Sit your hips back and push your booty out behind you while bending your left leg
Use your muscles to push you out of the lunge position
Repeat 10 times on each leg
Creams
If nothing seems to be working for you, and you're willing to try anything, there are certain medications and creams you can try. Volufiline is one of those. Volufiline is a Chinese herb used as a cream that helps fat cells grow in the area that it is applied to. Results are different for everybody, but this is something that may work for you!
Celebs
Hopefully this article has already eased your mind a little with your hip dips, but if it hasn't convinced you yet, here's some celebs that rock theirs every day!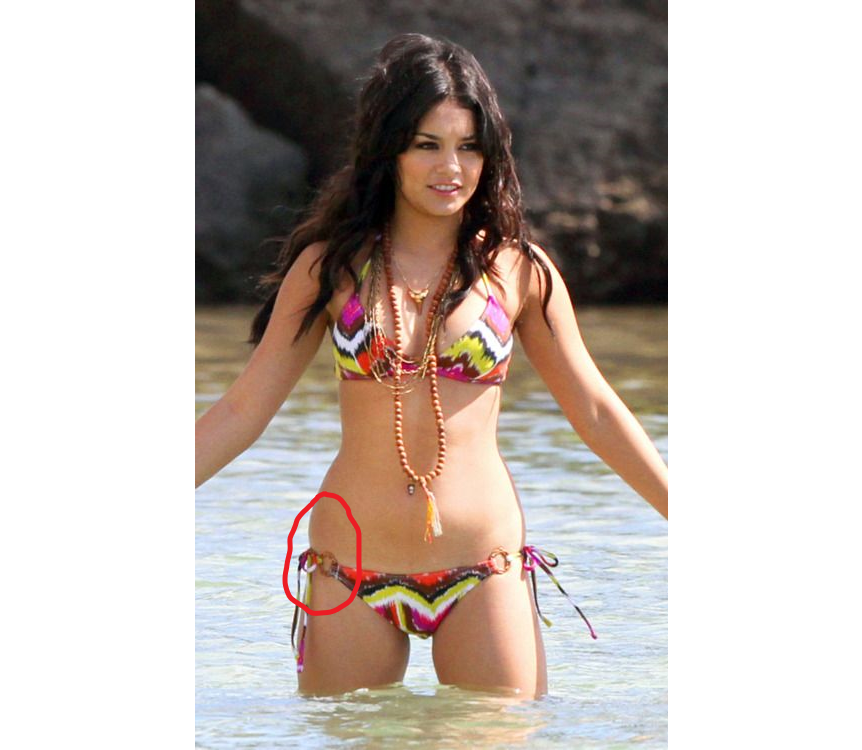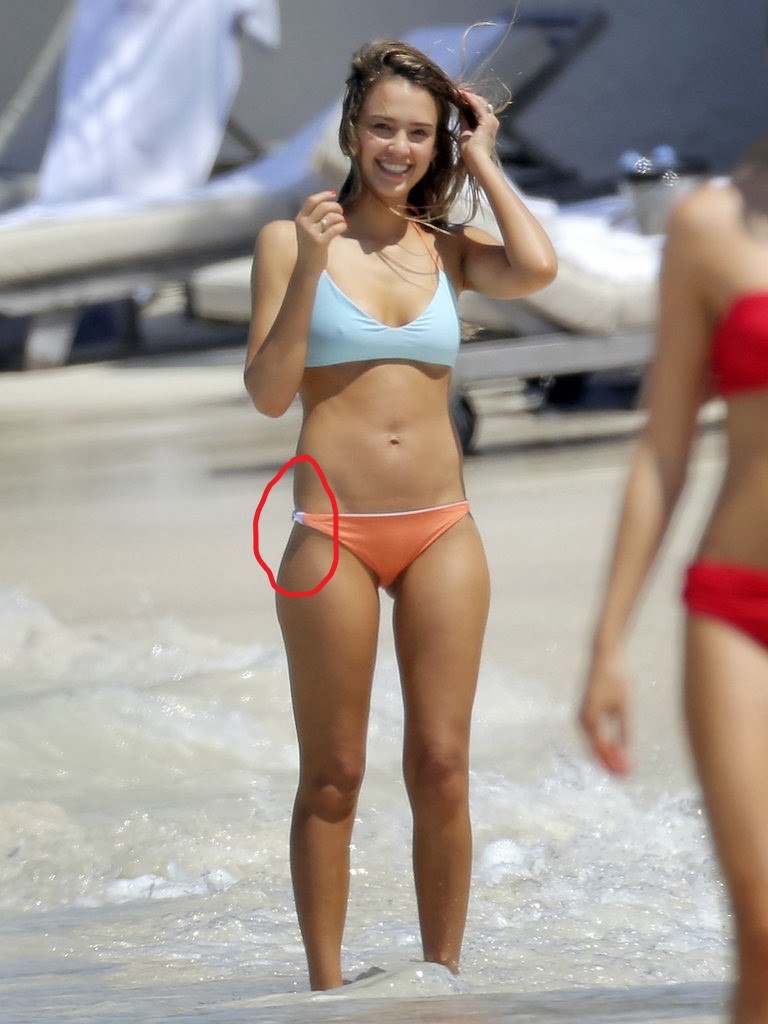 Final Thoughts
Hip dips make women around the world feel uncomfortable, and if you're one of them, I hope you take away some good tips from this page. But also remember, confidence is key! Learning to love your body, even the parts that you wish you could change will make you much happier in the long run. Don't let society, especially the media, bring you down. Rock that body girl, you only live once, and you look AMAZING!